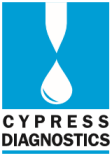 We manufacture the equipment needed for handling the samples, analysers to perform the tests, reagents to carry out the tests and – increasingly often – the software platforms to report the results.
Cypress Diagnostics supplies clinical laboratories.
We are a quality-oriented company with ISO certification and CE-approved products. Our production facility is located in Hulshout, Belgium. Our products are preferred and appreciated by users in more than 100 countries worldwide.
Cypress Diagnostics is a family-owned business, founded in 1995 in Leuven, Belgium.
We work exclusively with selected and trained distributors. We sell high-quality instruments and customer service is an integral part of our quality policy.
All our products come with an aftersales and performance guarantee.